In July 2010, I was invited to film the giant geoglyphs, from a small plane, on a hot day, outside Blythe, California. Alfredo Figueroa was my guide, although he did not fly that day. His son, Jesus (Chuey), acted as spotter from the back seat. The aluminum structure of the plane heated up in the Summer sun, relentlessly dehydrating its passengers, as if inside a flying oven. Regardless, as Jesus pointed and shouted, "Over there…" giant figures began to emerge from the patterns of the Earth itself.
Every now and then there was a perfect circle with no connecting tracks, geometries like a giant dragonfly, stick figures with heads, people-like vaporous forms descending, feet sort of blurring, little hands pointed out to the sides. Giant fields of "wind-rows," stacked rock "cornfield like piles" of curving, flowing forms, maybe a hundred yards long or more.
In this place, large scale industrial solar plants are proposed. Some of these plants would be eating up 5 square miles of pristine desert, home to North America's last in-tact ecosystems and vast cultural resources. This is an important place, according to several cultures, whose ancesors left enormous and rare earthworks, on the ground, looking up to the cosmos.
I was raised in Pasadena, a place that had for many years been racially segregated in a number of ways, where we told stories about Joaquin Murrieta ("The Bandit") just over the mountain, "rustling horses" on the other side of Mount Wilson. While many of my peers remained curious, also so many have never gone "over the mountain."
I am flying over fields of rich indigenenous treasure long ignored, clues and writings to another way of looking at the universe and at ourselves, left by peoples of obvious industriousness and skill and an astronomical orientation. I'm thinking, "This is where they want to put the solar plants?" Why don't we just build the solar where we use the energy, on rooftops and brownfields and railroad rights of way? In Pasadena, and Los Angeles, and Irvine?"
Joaquin Murrieta was important to California history because he sought to avenge the rape and murder of his wife in the California goldfields of 1848 by white, Anglo-European U.S. miners. He was a miner from Sonora, Mexico, after which the "Gold Country" town of Sonora, California is named. It is named, therefore, by and after the indigenous miners, landholders, and ranchers of the Southwest. People, it turns out, who were denied their rights to landholdings in California following the treaty of Guadalupe Hidalgo, which ceded California from Mexico to the United States.
Murrieta became a symbol of resistance, and an actual resistor to the extent that some say his aim was to raise an army. Joaquin Murrieta remains important to California and the Nation because he represents an injustice to Native people, one amid a long pattern of such injustices in California. And I began to wonder if that pattern does not include the proposed building of miles of arrays of solar panels on lands where one might say literally and figuratively, it is like having the Pyramids in your backyard.
As I'm flying above this fertile landscape that reminds me of the Valley of the Nile, I wonder also if some of the resistance, the neglect, on behalf of the dominant society–to help facilitate the study and protection of what is here–is not a remnant of a long time ago war and the resulting cultural mistrust.
My intention as a film maker is to open a window between the Ancients and our lives today, between the indigenous and the non-native worlds, unlocking a invaluable and essential perspective as we go forward to confront climate change and other global challenges.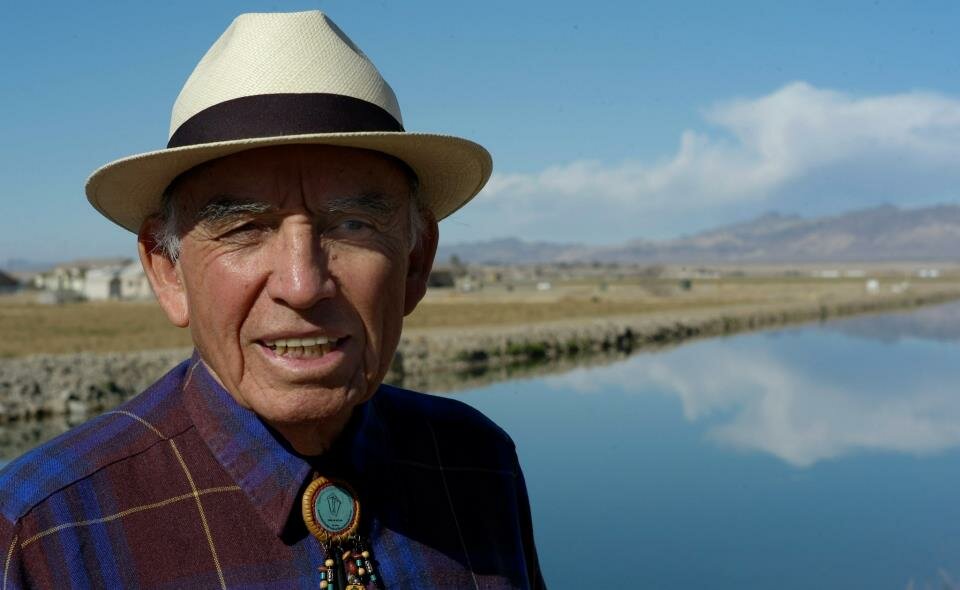 Sr. Alfredo Figueroa (Yaqui | Chemehuevi), PHOTO : LUNDAHL ©2014
"Who Are My People?" is a 1 x 72 television documentary film on the current and controversial topic of the build out of large solar renewable plants in the deserts of the West. Television coverage of the story has been minimal because of the remote locations involved. But Lundahl, who has an Emmy Award® winning public television track record including two 1 x 60 documentaries on Native American topics, was undeterred.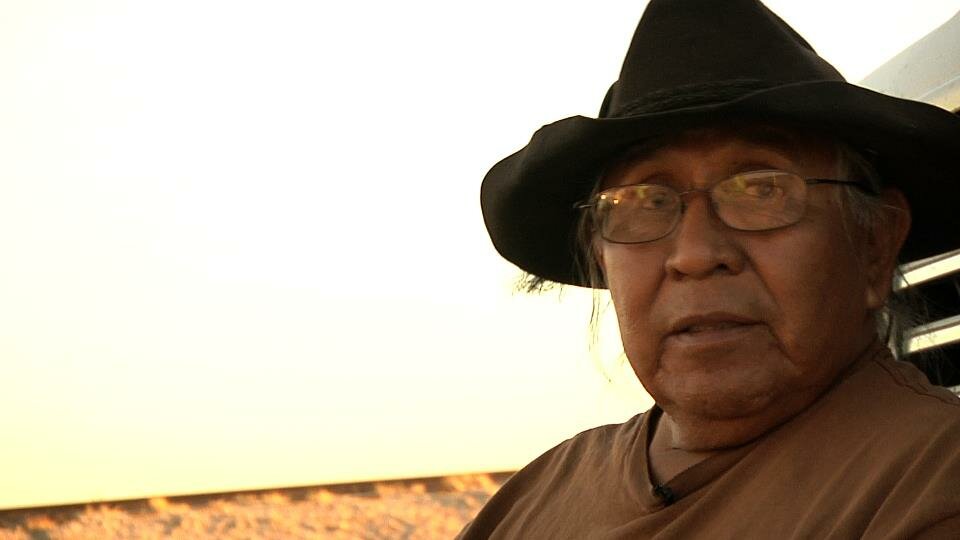 Preston Arrow-Weed (Quechan | Kumeyaay), PHOTO : LUNDAHL ©2014
Lundahl worked with Native American Elders, Reverend Ron Van Fleet (Mojave), Phil Smith (Chemehuevi), Alfredo Figueroa (Yaqui/Chemehuevi), and Preston Arrow-weed (Quechan/Kumeyaay) to create "Who Are My People? This is the first film to focus on the Native American response to desert utility scale solar renewables as a matter or current events, policy, and history. The film takes the shape of the film maker's personal narrative about a journey to the desert.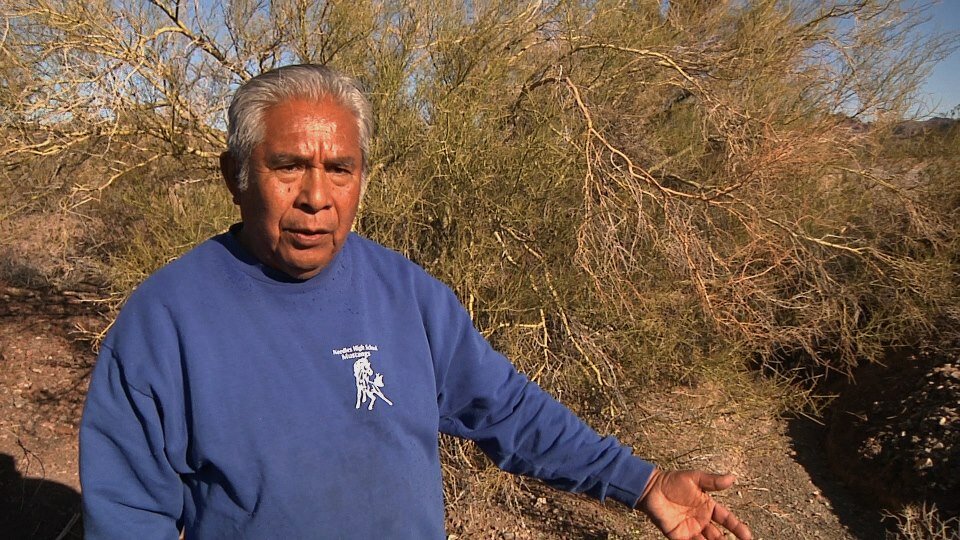 Phil Smith (Chemehuevi), PHOTO : LUNDAHL ©2014
"Who Are My People?" pays homage to a previous generation and attracts those with memories of why the environment is important. It addresses the issue of why people are important regardless of race or class and how communities are connected through environment and practices in the name of the environment, gold mining, logging, and now solar energy.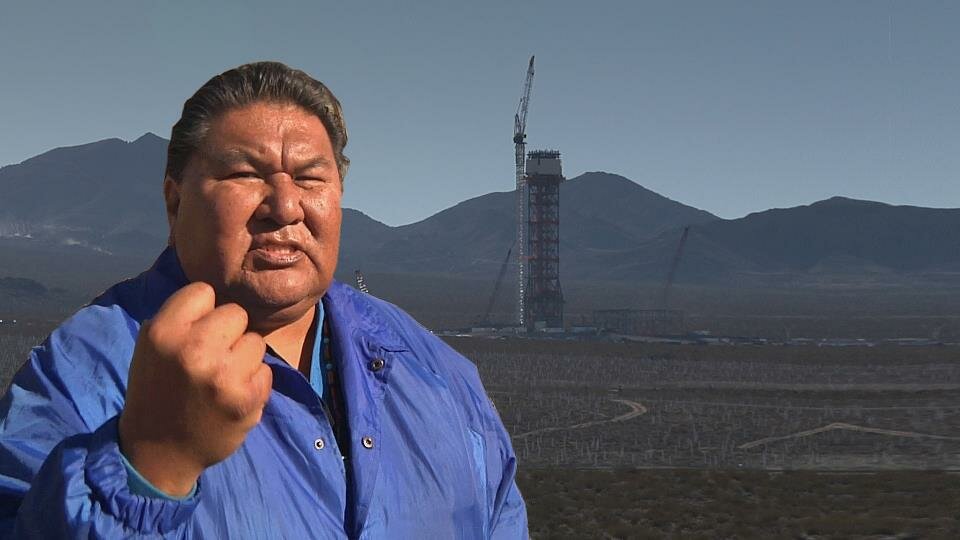 Reverend Ron Van Fleet (Mojave Hereditary Chief), PHOTO : LUNDAHL ©2014
Share and Enjoy